---
10 Motifs for Supersize Prints in Muscovite Maya Exhibition

For the 6-month exhibition in Russias capital we refined several of our reconstructions and rendered them in ultimate resolutions for 5-meter-printings. Besides we created a first look of Tenochtitlan and its sourrounding chinampas.
Video Rights by Vasily Sklyar
---
"TimeTours: Palenque"- 3rd part of the Maya-App-Trilogy launched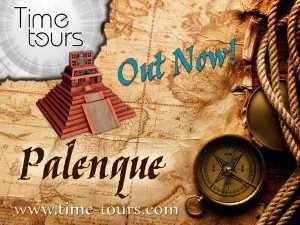 It took us more than one year to develop the latest digital travel guide to the "Versailles of the Maya". But it's worth every day!
Immerse yourself into the most beautiful Mayan city in the heart of the Jungle of Chiapas.
Again, you can experience the magnificent and mystic architecture by animated, photorealistic reconstructions, Now&Then-Sliders and "In the middle of it"-panoramas.
---
MAYA3D – The Mayan Architecture Reconstructed
Our first book includes 100 pages full of our most popular reconstructions for tv, museum and mobile apps in a softcover-edition. It faces the three sites Chichen Itza, Uxmal & Palenque and their famous structures and temples. Now&Then-Comparisions with explaining texts as well as large 180° panoramas provide a lively impression, how this former metropolises may looked like.
---
Our best Reconstructions for the App "TimeTours: Uxmal"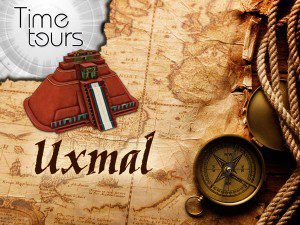 In cooperation with TimeTours we developed the second iPhone/iPad-App reconstructing the ancient Maya's world.
This time it's the fantastic Uxmal near Merida in Mexico.
The Now & Then-Slider and animations are even more impressive than in TimeTours: Chichén Itzá and we integrated 3 FullDome-Panorama for the first time.
The 3rd app, facing Palenque will follow in June 2013.
---
Codex Dresdensis – 3D Reconstruction of the Maya Codex in Dresden

Animated 3D-Model of the Dresden Maya Codex showing its current condition and blending to a refined version of the Kingsborough-replicat from 1826. Feel free to ask us for a copy of rendered codex-animations or even the 3d model including the accurat HiRes-textures of the current condition, the 125 years old Förstemann-Edition and the Kingsborough-replicat. read more
All rights of animation and music are strictly reserved.
---
Full-HD-Animations of Palenque for ROM-Exhibition in Toronto
Maya – Secrets of their ancient World
In 2 month of work we designed 6 animations showing Palenque at its bloom for the Royal Ontario Musuem in Canada. The exhibition contains many unique artifacts and faces topics like sacrifices and the end of the calendar.
One part are visual reconstructions like the major structures of Palenque, which we did with lots of attention to detail. This includes the Palace, Temple of the Inscriptons, Cross, Sun and for the first time, a depiction of the inner chambers and sarcophagus of the Red Queen-Temple…All in FullHD. However the most impressive view should be a 45-second-flyover the city!
Visit Website of the Exhibition
---
Models and Animations for "2012: Mayan Prophecies" in Houston/Texas
The Maya World in 360 degrees and 3D.
Since May this year, the show "2012: Mayan Prophecies" in the Burke Baker Planetarium in Houston/Texas offers visitors a unique perspective on the architecture and astrononomy of the ancient Maya.
We created more than 10 minutes of 4K-fulldome-animations. For that we reconstructed the Cities of Chichen Itza and Uxmal completely and Palenque and Tikal in parts. Furthermore we designed over 10 authentic characters and animated them from lip-sync to fullbody.
---
3D Reconstructions for the App "TimeTours: Chichén Itzá"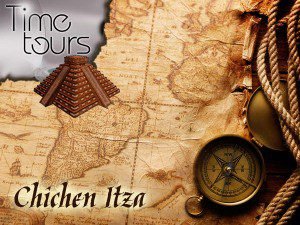 TimeTours is not just a typical guidebook. Instead, this virtual trip through time aims to bring the past back to life using our modern 3D reconstructions. In Cooperation with TimeTours we developed an iPhone/iPad-app, which offers a wealth of images and animations about the Site Chichen Itza. It also includes comparing "Now&Then-time windows" of all major structures, 360°-Panoramas as well many information.
"TimeTours: Chichén Itzá" is the first part of at least 3 Apps also featuring Uxmal and Palenque. Uxmal is the almost finished and will be released around September 2011
---
About Us
We are a small group of professional Media Designer specializing in 3D animation and web design from Berlin and Cologne in Germany. Because the common interest in Mesoamerican culture and its architecture connects us and we consider this topic to be a hobby of us, a few years ago, we decided to combine our job and hobby by reconstructing Mayan and Toltec buildings in Chichén Itzá with modern 3D-software to visualize the former brilliance of this architecture.
Because achieving this with existing photographs of the ruins alone was a major challenge, we relied mostly on old plans and drawings by different archaeologists, and of course, a great deal of fantasy for recreating the colorful facades.
Furthermore, using other temple constructions, such as the pyramids of Tikal and El Mirador, we have attempted to develop methods for modeling different styles of architecture in an accurate and time-efficient manner. The highly detailed reliefs and sculptures of the Mayan constructions are an especially difficult challenge which require big effort, however, this was made possible with good drawings and photos as guidelines.