---
Digitalized artworks of Frederick Catherwood

We provide the 25 most fam­ous paint­ings of the explorers Maya exped­i­tions in high qual­ity for free down­load. The rights are pub­lic domain.
---
10 Motifs for Supersize Prints in Maya Exhibition
For the 6‑month exhib­i­tion in Rus­si­as cap­it­al we refined sev­er­al of our recon­struc­tions and rendered them in ulti­mate res­ol­u­tions for 5‑met­er-print­ings. Besides we cre­ated a first look of Tenoch­tit­lan and its sour­round­ing chinampas.
Video Rights by Vas­ily Sklyar
---
"

TimeTours: Palenque"- 3rd part of the Maya-App-Trilogy launched
It took us more than one year to devel­op the latest digit­al travel guide to the "Ver­sailles of the Maya". But it's worth every day!
Immerse your­self into the most beau­ti­ful May­an city in the heart of the Jungle of Chiapas.
Again, you can exper­i­ence the mag­ni­fi­cent and mys­tic archi­tec­ture by anim­ated, photoreal­ist­ic recon­struc­tions, Now&Then-Sliders and "In the middle of it"-panoramas.
---
MAYA3D

— The Mayan Architecture Reconstructed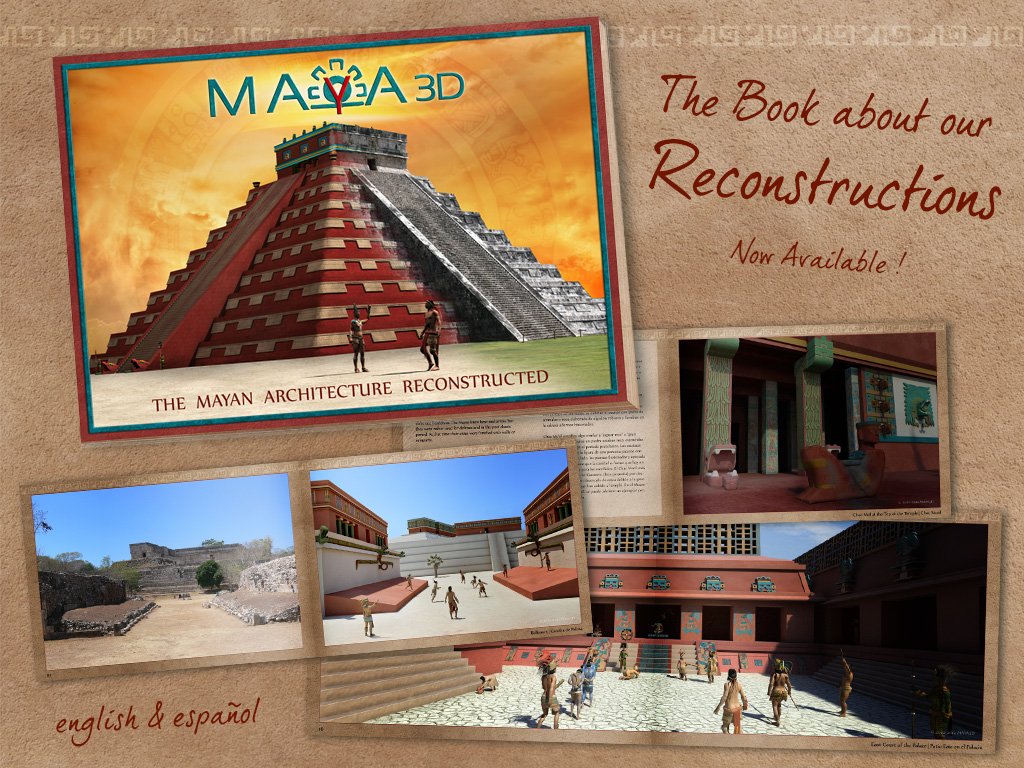 Our first book includes 100 pages full of our most pop­u­lar recon­struc­tions for tv, museum and mobile apps in a soft­cov­er-edi­tion. It faces the three sites Chichen Itza, Uxmal & Palenque and their fam­ous struc­tures and temples. Now&Then-Comparisions with explain­ing texts as well as large 180° pan­or­a­mas provide a lively impres­sion, how this former met­ro­pol­ises may looked like.
---
Our best Reconstructions for the App "TimeTours: Uxmal"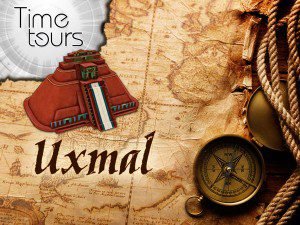 In cooper­a­tion with Time­Tours we developed the second iPhone/iPad-App recon­struct­ing the ancient May­a's world.
This time it's the fant­ast­ic Uxmal near Merida in Mexico.
The Now & Then-Slider and anim­a­tions are even more impress­ive than in Time­Tours: Chichén Itzá and we integ­rated 3 Full­Dome-Pan­or­ama for the first time.
The 3rd app, facing Palenque will fol­low in June 2013.
---
Codex Dresdensis —
3D

Reconstruction of the Maya Codex in Dresden

Anim­ated 3D-Mod­el of the Dresden Maya Codex show­ing its cur­rent con­di­tion and blend­ing to a refined ver­sion of the Kings­bor­ough-rep­licat from 1826. Feel free to ask us for a copy of rendered codex-anim­a­tions or even the 3d mod­el includ­ing the accur­at HiRes-tex­tures of the cur­rent con­di­tion, the 125 years old För­stem­ann-Edi­tion and the Kings­bor­ough-rep­licat. read more

All rights of anim­a­tion and music are strictly reserved.
---
Full-HD-Animations of Palenque for ROM-Exhibition in Toronto
Maya — Secrets of their ancient World
In 2 month of work we designed 6 anim­a­tions show­ing Palenque at its bloom for the Roy­al Ontario Musuem in Canada. The exhib­i­tion con­tains many unique arti­facts and faces top­ics like sac­ri­fices and the end of the calendar.
One part are visu­al recon­struc­tions like the major struc­tures of Palenque, which we did with lots of atten­tion to detail. This includes the Palace, Temple of the Inscriptons, Cross, Sun and for the first time, a depic­tion of the inner cham­bers and sar­co­phag­us of the Red Queen-Temple…All in Full­HD. How­ever the most impress­ive view should be a 45-second-fly­over the city!
Vis­it Web­site of the Exhibition
---
Models and Animations for "2012: Mayan Prophecies" in Houston/Texas
The Maya World in 360 degrees and
3D

.

Since May this year, the show "2012: May­an Proph­ecies" in the Burke Baker Plan­et­ari­um in Houston/Texas offers vis­it­ors a unique per­spect­ive on the archi­tec­ture and astro­nonomy of the ancient Maya.

We cre­ated more than 10 minutes of 4K-full­dome-anim­a­tions. For that we recon­struc­ted the Cit­ies of Chichen Itza and Uxmal com­pletely and Palenque and Tikal in parts. Fur­ther­more we designed over 10 authen­t­ic char­ac­ters and anim­ated them from lip-sync to fullbody.
---
3D

Reconstructions for the App "TimeTours: Chichén Itzá"
Time­Tours is not just a typ­ic­al guide­book. Instead, this vir­tu­al trip through time aims to bring the past back to life using our mod­ern 3D recon­struc­tions. In Cooper­a­tion with Time­Tours we developed an iPhone/iPad-app, which offers a wealth of images and anim­a­tions about the Site Chichen Itza. It also includes com­par­ing "Now&Then-time win­dows" of all major struc­tures, 360°-Panoramas as well many information.
"Time­Tours: Chichén Itzá" is the first part of at least 3 Apps also fea­tur­ing Uxmal and Palenque. Uxmal is the almost fin­ished and will be released around Septem­ber 2011
---
About Us
We are a small group of pro­fes­sion­al Media Design­er spe­cial­iz­ing in 3D anim­a­tion and web design from Ber­lin and Cologne in Ger­many. Because the com­mon interest in Mesoamer­ic­an cul­ture and its archi­tec­ture con­nects us and we con­sider this top­ic to be a hobby of us, a few years ago, we decided to com­bine our job and hobby by recon­struct­ing May­an and Tol­tec build­ings in Chichén Itzá with mod­ern 3D-soft­ware to visu­al­ize the former bril­liance of this architecture.
Because achiev­ing this with exist­ing pho­to­graphs of the ruins alone was a major chal­lenge, we relied mostly on old plans and draw­ings by dif­fer­ent archae­olo­gists, and of course, a great deal of fantasy for recre­at­ing the col­or­ful facades.
Fur­ther­more, using oth­er temple con­struc­tions, such as the pyr­am­ids of Tikal and El Mirador, we have attemp­ted to devel­op meth­ods for mod­el­ing dif­fer­ent styles of archi­tec­ture in an accur­ate and time-effi­cient man­ner. The highly detailed reliefs and sculp­tures of the May­an con­struc­tions are an espe­cially dif­fi­cult chal­lenge which require big effort, how­ever, this was made pos­sible with good draw­ings and pho­tos as guidelines.